Unless you choose to live at home or rent an apartment for yourself, you are going to learn to adapt to sharing personal space. Whether you are randomly assigned a roommate or you live with your friends, you must communicate effectively with each other to maintain a friendly and healthy living environment. Here are some tips that can help you get along with your roomies better.
Get to know each other
Before the semester starts, try spending some time hanging out with your roommates. It can be as simple as sitting down and having a chat, going to the dining hall or even playing video games together. By doing that, you can get to know more about who they are and become more comfortable with one another. Also, they can be a very good resource to learn about different countries and cultures.
At the end of the day, you and your roommates are going to see each other a lot for at least a semester. Becoming good friends with your roommates helps a lot with lowering your stress level and makes you feel safer staying in your dorm room.
Establish boundaries
Now, let's set some rules. No matter how easy going you are, if you don't communicate well, things can add up, and it can frustrate you at some point. Therefore, you'll need to discuss and see eye to eye on the most important everyday activities, such as cleaning, sleeping schedule, study schedule, having guests over, air conditioning and heat, sharing food, allergies, etc.
I know that you are in college and your family is not around to tell you what to do, but you need to be on your best behavior always. Respecting others' personal space (especially when you and your roommates share a room), being mindful with each other's sleep, asking before bring guests over, keeping your living space tidy, cleaning after yourself, refilling toilet paper as well as respecting other rules are not too hard to do, right?
Learn to communicate
Be direct and honest. If your roommates did something that you are not happy about, politely let them know. Approach your roommate in private, when they have time to hold a meaningful conversation, and be clear about what is bothering you.
Yes, you are going to learn how to both give and take criticisms and complaints in the most effective way. Yelling, talking behind others' backs, leaving passive aggressive notes, being stubborn, and thinking that you are always right are not the right way to solve conflicts!
More importantly, remember that your roommates are not you, and they may have a very different lifestyle. Therefore, be open-minded, accept who they are and let small things go.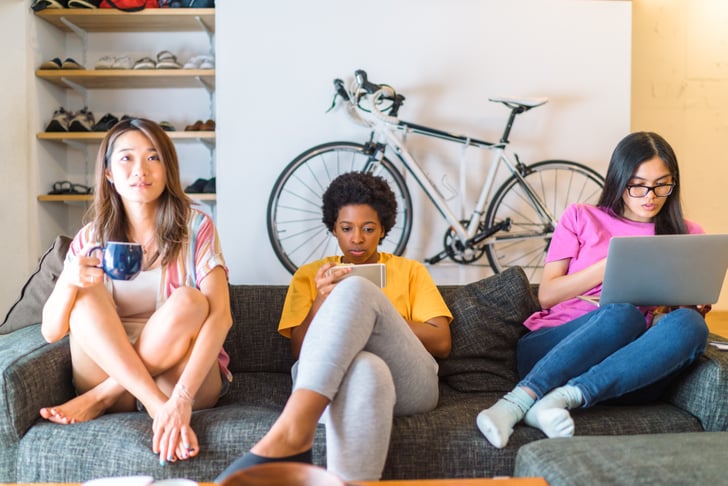 Practice empathy
You, me, your roommates and everyone around you are just human. We all face different challenges with many levels of emotions in life. We don't want pain and discomfort. Without our family and close friends around, having a supportive roommate is a blessing. I don't have a good guide for this section, but you'll learn to show empathy and be a good listener.
Make more friends
Expanding your circle of friends and networking are always important. You can join an organization, sorority/fraternity, learning community, etc. or even make a study group with your classmates.
Appeal to a third party when necessary
This rarely happens but it might. When you and your roommates can't seem to compromise to an issue, it might be the time to get your RA (Resident Advisor) involved. They are trained to deal with these situations, so they can sure find a way to help.
College is something that only happens one in a life-time, so I hope you will make the most out of it. Having roommates can be an incredibly fun and rewarding experience. Just like any relationships, it takes time and work. Who knows, this could be the beginning of an awesome friendship full of interesting stories that you could later tell your kids about.