Dietary Restrictions.
A lot of us have dietary restrictions for many reasons; religion, allergies, fighting for a cause, and a billion other possibilities.
Bottom line is, we don't eat food that 'everyone' eats.
I am not going to lie and say it's an extremely smooth ride, but it's not impossible. Walk into a fast food chain and ask for a veggie burger. More likely than not, you're going to get a bun with lettuce and tomatoes in between.
But contrary to popular belief, there is more to eat besides a salad and pizza.
On Campus
It is recommended for international first-years to have a meal plan as it eases the food aspect of settling in a new country. So what can you eat in the cafeteria/on campus?
Veggie Burgers
The cafeterias actually serve veggie burgers on request. All you have to do is walk up to the counter where they deep fry things, and ask.
Made to Order Stir Fry
This was one of my constant meals when it came to campus dining. Find the counter that does this (usually the longest line), fill a bowl with vegetables that you want (or not), and tell them if you want rice, noodles and/or tofu.
All of that stir-fried together and topped with Sriracha sauce, um, wow. I'm drooling, just thinking about it. Also the thought of not having to cook is thrilling.
Sandwiches
There's usually a sandwich counter in the dining halls where you can customize your sandwich. Yes, they also make grilled cheeses.
Vegan/International Counter
These counters have different food everyday, and the menu changes by cafeteria too. Check out the locations and menus here.
Subway
Yup, we have a Subway on campus, and it has been a life-saver for me so many times. I'm sure it will be for you too.
Chipotle
Chipotle is a Mexican food chain that does made-to-order burritos, tacos and bowls. It's a great place for vegans + vegetarians because you can pick everything that goes into your food, and they also compensate for the absence of meat/protein with free guacamole. You can also get tofu as a protein.
Bibibop
Bibibop is just like Chipotle, but with Korean inspired flavors. You can get noodles or rice, with a bunch of toppings that are usually associated with the Asian diaspora (eg. Kimchi, Bean sprouts etc). They also have a whole range of sauces that make this meal even tastier.
Currito
Another member of the made-to-order family, Currito's speciality is the global sauces. They have a pretty yummy Tikka masala sauce and I can swear my life on their Nutella milkshake.
Mr. Sushi
Sushi might not be an all time vegetarian favorite, but Mr. Sushi has some awesome non-sushi vegetarian options, like various noodles and tofu dishes. I always get the Yakisoba noodles with tofu and I'd recommend you blindly order it if you go there. Trust me. Look how happy she is!
Skyline Chili
Yes, chili is usually made with turkey or beef, BUT Skyline Chili has an am-a-zing black bean and rice chili. Some of this chili on carb-olicious spaghetti, topped off with some habanero cheddar cheese…wow. It's not your average black bean, I promise. Quynh is also obsessed with it, and here's proof.
J-Petal
*contains eggs* I highly recommend J-Petal if you have a sweet tooth, and slightly late night cravings. It's one of the few restaurants that are open late (11pm) and they serve some fabulous crepes and rolled ice cream. They also have board games to play with your friends while eating!
Panera Bread
An absolute life saver during cold/sick days. They have soul-warming food that is fresh and relatively healthy. Personally, I thrive on the you-pick-two option where you get half-servings of two things on the menu (soups/sandwiches), perfect for someone as indecisive as me.
Keystone/ MacShack
MacShack is not really a great place for vegans, but can perfectly suit the vegetarian diet (especially on Mondays – they have 50% off) with its Fleetwood Mac and Lovin' Spoonful options.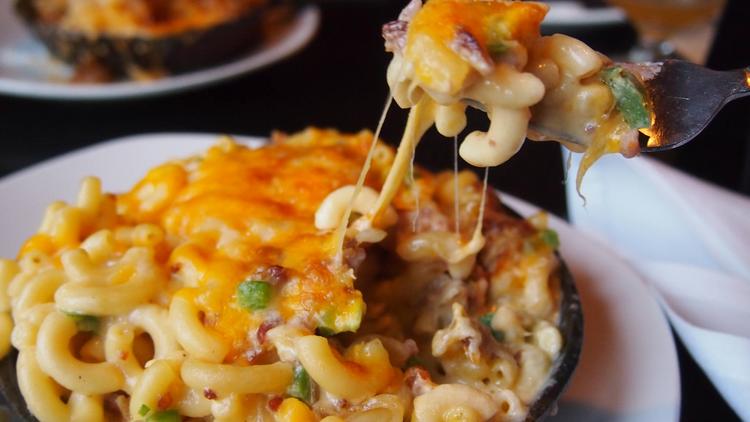 Thai Express
Thai Express is a small (dingy) place with GREAT food. The serving size is enough to keep your stomach happy, and the cooks are always willing to make substitutions and additions based on your dietary needs.
My personal favorite is the Curried Fried Rice, so let me know if you try it!
Habanero
Mexican places are a blessing to vegetarians and vegans. So many toppings, and not all meat or dairy. Wonderful! I personally love Habanero's potato and tofu fillings option for its tacos, and I've also heard a lot of great things about the quesadillas. (They let you swap out the meat in a quesadilla for tofu so make use of the opportunity.)
Tea 'n' Bowl
Tea 'n' Bowl is an Asian joint that serves bubble tea, Chinese stir fry, hot-pot and some Americanized Asian food. This is my favorite source of bubble tea in Clifton. It also won't hurt to try their spicy crispy tofu and roti canai.
Indian Restaurants
There are a lot of Indian restaurants all around campus. Adeep India, Krishna, Elephant Walk (also has Ethiopian food!), Grill of India, Ambar India are the ones I can name off the top of my head. They all have a lot of vegetarian options!
My personal favorites are the Shahi Paneer at Adeep India, and the samosas at Krishna. Perfect for those days when I'm homesick.
Comment if you have any other recommendations!
** This list is continuously being updated. Be sure to come back and check for more options! **